Villager: site Administrator and owner
Having been brought up around Unimogs since the age of 0, I have grown into a huge fan. I have been brought up around Unimogs designed for forestry and off-roading. My favourite model Unimogs are U900's and U411's (westfalias are my absolute favourite) My aim is to help as many people with their Unimogs as possible and to encourage people to share their experiences with them so that people become more aware of them.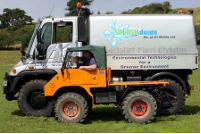 Moose: Global moderator.
Although moose isnt online very often, he is our most knowledgable member of the team. With 5 Unimog's in his posession he's had plenty of practice, and when a highly technical topic comes up, if Moose cant get online, a member of the team asks him personally.
Casto: Moderator (introduce yourself)
Casto is the owner of a an ex-snow blower U900 406. He is restoring it and converting it to a forestry/arboriculture machine. A regular poster, Casto is one of our main members. His main area of Knowledge on Unimogs is U900's
Last updated 15/04/2013